2020, a year so different they named it twice. The year 2020 took a lot from different countries around the world but it also gave Nigerians a lot of opportunities; especially in the financial/money market.
From a large influx into the Foreign Exchange to Nigeria being the second-largest investor in Crypto Currencies all over the world to the opportunity to invest in global companies around the world via the Stock Market, the year 2020 will serve as the starting point towards financial freedom for most Nigerians.
With four home-based platforms/brokers in Invest Bamboo, Trove, Chaka, and RiseVest, trading and/or investing in the stock market has never been easier but like it is with everything all over the world, there is always an alternative to a working system, most times a better one. In this blog post, I will be sharing with you everything I know about trading and investing with Trading 212, from the experiences of my colleagues, other seasoned investors/traders and from intensive research about the platform.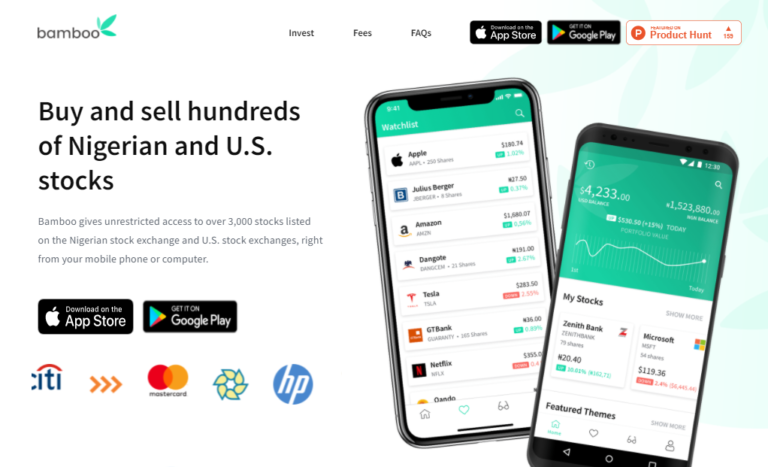 Disclaimer: The content of this post does not in any way serve as Financial Advice and should not be taken as such. Ensure to contact your financial advisor before making any decisions based on the content of this post.
Note: For the sake of this post, we would be focused on the Invest and ISA options of Trading 212, and not Contracts-for-difference on forex, commodities, stocks, and indices. The content, advice, and suggestions in this post are only related to trading/investing and funding in regards to stocks.
Introduction
Using a modern cross-platform experience, Trading 212 offers real stocks, ETFs, and CFDs across a variety of asset classes. Based in London and offering a retail-only account on a zero-commission model, Trading 212 is being regulated by two international organizations and continues to be a leading trading app in the UK since 2016.
Trading 212 was founded in 2004 and is being regulated by the UK Financial Conduct Authority (FCA), and the Financial Supervision Commission (FSC). Trading 212 accepts traders and investors from over 100 countries worldwide, including the UK, the UAE, Japan, Australia, Spain, Singapore, Netherlands, Germany, Romania, Poland, and Nigeria.
Pros of using Trading 212 (Why Trading 212 is the Best Stock Broker for Nigerians)
Client Fund Protection; Traders funds are kept in separate bank accounts and are protected under the: Financial Services Compensation Scheme (FSCS) – Compensation up to £85,000 Investors Compensation Fund (ICF) – 90% compensation up to €20,000
5,000+ global stocks, ETFs, and CFDs
Beginner-friendly app with a great user experience and interface
Zero commission on trades and funding except the 0.7% charged by your funding source
$/£/€1 minimum deposit
Up to 50,000 demo account credits
Copy Trading/ Trading Pie
Prompt dividend payment
Cons of using Trading 212
No direct phone support
Only 8 cryptocurrencies available
Withdrawals are limited to the method of funding
Stringent verification process
Limited funding options (for Nigerians)
Which Account Do I Use? CFD, Invest or ISA
Trading 212 offers 3 different types of accounts for users to operate. Personally, I would not advise you to open the CFD account because I for one have never traded on that platform. The CFD can be a very dangerous financial instrument if you are a novice and many people lose their money through it, moreover, the CFD account is not free to use, and this is where Trading 212 makes the majority of its profits from.
The ISA and Invest accounts are almost the same, the only difference is that the ISA is tax efficient. Although most beginners don't have enough money invested to pay tax anyway. When you invest through the Invest and ISA account you own the underlying investment.
Registration and Verification Process (Using Nigeria as a case study)
The process of opening an account with Trading 212 is almost the same all over the world but may slightly vary depending on the laws of individual countries and acceptable means of identification. The procedure listed is tailored to the Nigerian spectrum and can be applicable to residents of other countries.
The first thing you need to do is to visit https://www.trading212.com to set up an account.
You will need your full names, email address, house address (ensure this address is the same as the one on your bank statement), telephone number, and TIN (Use International Passport No. in place of this).
Then you upload a picture of your valid ID data page (currently, International Passport is preferable as they rarely accept other means of identification), then you take a selfie and upload it to confirm your identity.
For proof of address, you have to upload a recent 3-month bank statement with your house address on it (do not forget that this address should be the same as the one you used in creating your account) in the event that your house address and account statement address are different, request for an address update/change from your bank.
Next, you need a digital bank statement, to get the statement for Guaranty Trust Bank, you;

Visit https://www.gtbank.com/personal-banking/ways-to-bank/internet-banking
Enter your user ID and password
Go to the "Account statement" section and enter the period of statement you want
Scroll down and change the format from EXCEL to PDF & SIGNED
Press Generate to download
For other bank users, kindly find out from your bank how to generate your bank account statement.
The verification process takes just a few hours, if all your documents are valid and right, your account would be verified and ready for trading within 4-6 hours and you will receive a confirmation email from Trading 212 congratulating you for successfully verifying your account.
Funding and Withdrawal Process
As of the time of publishing this post, Trading 212 offers four payment methods in Skrill, Credit/Debit card, Bank Transfer, and Google Payment. I would advise you to make use of the Credit/Debit card or Google payment option.
The charges on the bank transfer from Nigeria accounts are outrageous, and investors who have tried using Skrill have encountered too many complications which I feel is not worth it.
Using a Credit/Debit Card
Trading 212 only allows deposits from Master cards, Visa cards, and not Verve card, in fact only selected Nigeria Master and Visa cards are accepted tho most times you would have to try different cards before you find which one will go through.
PS: Please do not use a card that is not registered in your name as this is against Trading 212 policy and you could get penalized for that.
Using Google Payment
Visit www.pay.google.com then log in with the same Gmail address you used in registering your 212 trading account. Go to Payment Methods, add your card. If you already have a card added, ensure it is the same card you want to use for 212 transactions. If not, remove and add a new card.
Log into your Trading 212 account and click on Deposit Funds. Then, enter the amount and select GPay as your payment method and complete the funding process. Under normal circumstances, your deposit reflects immediately.
List of cards that you can fund your Trading 212 account with
Guaranty Trust Bank Platinum card
Zenith Cards
Fidelity Cards
UBA Cards
Payoneer Cards
All Nigerian Domicilary Cards
Certain virtual cards
But over time, cards that were not accepted eventually go through as Trading 212 enlarges their coasts.
Withdrawing from Trading 212
Login to your account, click on Withdraw and your money will be sent to the card added to your Payment Method. It takes about 2 Business Days for your withdrawal request to be executed.
Trading 212 deposits your withdrawals via whichever medium you used in funding your account. That means, if you made a transfer to them, your withdrawals would be sent to the account your transfer was initiated. If you made use of a credit/debit card or via Google Payment, your withdrawals would be sent to the account associated with the cards you used to pay.
So ensure you make a deposit at least once with a card at a favorable exchange rate so that you can make your withdrawals through this medium and enjoy your profits.
How does Trading 212 make profits?
Trading 212 typically makes their money through the bid/offer spread, the spread is the difference between the bid and offer price, it is the amount of money you would lose if you bought and immediately sold an investment.
Trading 212 also makes money from traders who trade the contract for difference and are of little knowledge of the 'how to'.
Conclusion
I have been using trading 212 for well over five months and I haven't had any hiccups with their service, their platform, and mode of handling business best suits a trader if your other options are Bamboo, Chaka, or Trove but you can also use the account for long term investing, create different pies for different goals and copy trade other successful portfolios.
If you have any further questions about Trading 212 or you need further clarifications, you can reach out to me via Twitter or leave a comment below.
Why Trading 212 is the Best Stock Broker for Nigerians
Comments
comments