One of my many Nigerian dreams is living and working from home while earning in international currencies, and I believe it's the same with most Nigerians as long as the international currency is of higher value than Nigeria's currency.
But you have to agree with me that the process of transferring your money from international platforms to your local account can be very frustrating. With hurdles ranging from a long unending registration process, verification procedures that hardly go through, conversion rates that are far from the current market price, to the risk of being blocked or losing your account.
Trust me, I've been there before and I can completely relate with your plight, but what if I told you there was a medium by which you can get your money transferred from international platforms to your local accounts with the best market conversion rates, a verification confirmation process of fewer than six hours, one-step registration and never have to worry about losing your account?
Wait for it...
*Drum rolls...*
*Dramatic entrance...*
I present…  Sendvalu!
Sendvalu is an international financial institution that allows you to send money from one currency to another while providing you with the best market conversion rates and swift processing time. Sendvalu is operated by AWS Malta LTD which is licensed and regulated by the Malta Financial Services Authority.
How does it work?
Transacting via Sendvalu's platform is very easy when compared to other institutions that provide similar services today. All you have to do is register, get verified and make your first transaction.
All these processes can be done and completed within the space of a business day or two depending on the time you initiate the transaction.
Registration
The registration process for Sendvalu is very simple, like most online platform, it just requires you to provide a valid email and choose a preferred password.
You can complete your profile registration later on or choose not to like I did.
Identification Verification
Like most online financial institutions, Sendvalu requires that you send in a proof of identification in order to prevent the risk of financial fraud. As at the publication of this post, Sendvalu accepts the National Identity Card of your country (NIMC in Nigeria), International Passport or your Driver's License as a valid means of identification.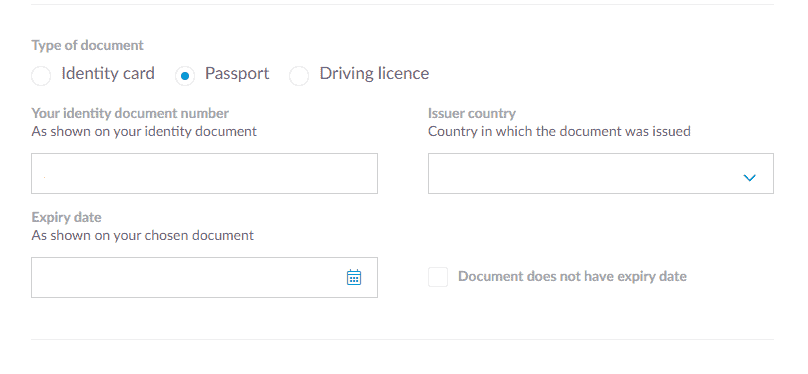 Sendvalu completes the entire verification process under six business working hours and activates your account for transactions, once your means of identification is valid.
Completing your first transaction
Initiating and completing a transaction on Sendvalu is pretty seamless. First of all, you select the country you intend to send the money to then you pick your transfer type. There are three ways of transferring your money through Sendvalu:
The first is the Cash Pickup, which I've never used and would not recommend. I don't know how safe picking a thousand dollars in cash would be but I'm not ready to take that risk. Anyway, that medium takes the same or next business day.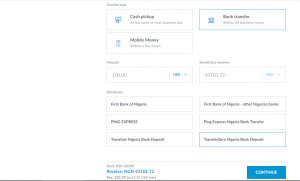 The second option is via Bank Transfer which I use most of the time and will continue using as the case study for the remainder of this post. The second medium offers the best conversion rate and allows you send your money into your local bank account directly, this takes just 24 business hours, but from experience, 1-2 hours except if it's your first 2-3 transactions.
The last option is Mobile Money. When I tried this, my money was sent via Paga and it gave me quite an issue because before then, I didn't have a Paga account, so you would have to be registered with Paga to use this transfer.
These are the three transfer types that Sendvalu offers, but I will strongly recommend the Bank Transfer option.
Once you've picked your transfer type, input the amount of money you intend to send in the currency you're are sending from and it will immediately show you the amount of money the receiving country would convert your money into.
Then you select a distributor of choice, I will recommend TransferZero Nigeria Bank Deposit, they offer the best conversion rate and the cheapest transaction charge. As at the publication of this post a dollar is been changed for 435 Naira via their distribution, while PayPal is still on 330 Naira. There's usually a little transaction fee that you have to pay then you continue the process.
For the next step, you have provided a name, email, phone number and address, then you select the bank of the recipient you wish to transfer to, then input the account number and select an account type.
For the next step, you input the card details of the account you are sending the money from, review the transaction details and confirm the process.
Transaction window and payment
Immediately, an invoice will be sent to you with a reference number that you can use to track your transaction with. Within 10 to 15 minutes (using Payoneer as a case study) the authorized amount of money will be deducted from your sending account and within the next hour to two hours the receiving account will be credited with the transferred amount.
During these processes, you can track the progress of the transaction via the generated reference number or on your Sendvalu dashboard, it tells you when your sending account has been debited when the money has been sent to the distributor, when it gets to a local collector and when it finally gets paid.
PS: Transaction time for the first and second time might take longer but will certainly be processed under 2 business days. From my experience with using the platform, the completion of a transaction typically takes 1 to 2 hours.
I've been using Sendvalu for over two years, and would strongly recommend them to you. With simple user experience and best market rate, Sendvalu is without a doubt the future of international currency transactions.
In the event of any further enquirers, kindly leave your questions in the comment session below or send me a message via Twitter.
Image Source: Sendvalu
How to Receive Foreign Payments Seamlessly using Sendvalu
Comments
comments