Over time, I have realized that finding a low-fee, reliable, and fast platform to receive payments in Nigeria is a hurdle – one almost as challenging as getting a job.
I lost almost 30% of my first foreign pay on the payment platform that I tried back then. After the ridiculous charges, there was a frustrating conversion rate, and at the end of the day, I lost a substantial chunk of my pay.
I know how frustrating it is, so I will be sharing a better solution I found to receiving payments in Nigeria – Skrill (through Binance.)
Now, whether you are a freelancer, online merchant, tech bro, or woman in tech with customers or business associates abroad, rest assured that there is a payment platform that can support your transactions.
We will be looking at a step-by-step procedure (with screenshots) of how to receive payments from Skrill through Binance in Nigeria.
What is Skrill?
Let's start with a brief explanation of Skrill. Launched in 2001 as Moneybookers and based in London, United Kingdom, Skrill is a European online payment platform currently available in 200 countries, including Nigeria.
It simplifies transactions for online vendors, gamers, forex traders, and freelancers.
This payment platform offers business and personal accounts, allowing you to transfer money, shop online, and buy cryptocurrency.
How do I open a Skrill account?
The Skrill signup process is one of the easiest. All you need is a valid email address.
But here is the catch. As soon as you receive payment on Skrill, your account will be blocked. You will then be prompted to verify the account before you regain access to that account and the funds there.
How do I verify my Skrill account?
The verification process is a bit thorough; after all, we are dealing with money here. Anywho, you will need first to download the app if you were accessing the platform on the web.
Then, you will be asked to provide card details, Visa or MasterCard, any utility bill (NEPA bill), or account statement from your bank as your proof of address, and a valid ID card (permanent voters card, driver's license, or National ID card.)
Note: Skrill does not accept the NIMC slip or the e-ID. Also, scan and take clear pictures of your documents in well-lit rooms.
After submitting your details, it should take 2-7 days to get a response from Skrill. If your details were found acceptable, you would regain complete control of your account and funds.
 How do I log in or sign in on my Skrill account?
You can sign in on your account on the Skrill website or from the app on your mobile devices. The app is available on Android and iOS for iPhones and iPads.
How do I receive payment from Skrill to my bank account?
You can withdraw your Skrill funds via wire transfer (SWIFT). But depending on your bank, it may take 2 to 7 workdays, and the exchange rate will be that of the bank.
How do I receive payment from Skrill to my bank account through Binance?
This is a faster, low-fee option for you. You can receive payment from Skrill through Binance in 45mins or less. I will share my process in steps you can follow.
So, I had some Skrill dollar funds, and I wanted to withdraw to my GTB account. Let's go through my journey together.
Step 1: Open your Binance app and log in.
Step 2: Click on P2P trading
Step 3: Ensure the status is "Express" and the currency is the currency you want to buy (for me, it was USD). Then type the amount of Skrill funds you wish to sell. Mine was $30.
Step 4: Hit the "Buy with 0 Fee."
Step 5: Select "Skrill (Moneybookers)" and confirm the purchase. Notice that the charge was $1.41 for this transaction from Binance, and I will be receiving 28.59 USDT.
Step 6: You will be referred to a broker who will buy Skrill funds. Click on "make payment" to find your seller's details (email address.)
Step 7: Copy the email address and go to Skrill to make a "Skrill to Skrill" transaction.
Note: Do not close the Binance page yet.
Step 8: Paste the email address on Skrill and hit "Continue."
Step 9: Fill in the amount you are selling on Binance. It was $30 for me, so my currency was in USD.
Step 10: Hit continue. Also, note that I was charged a $0.90 fee on Skrill.
Step 11: After sending the funds, go back to your Binance page, hit the "Transferred, notify seller" button, and wait to receive payment from Skrill. Mine was sent 13 minutes after to "Funding" on Binance.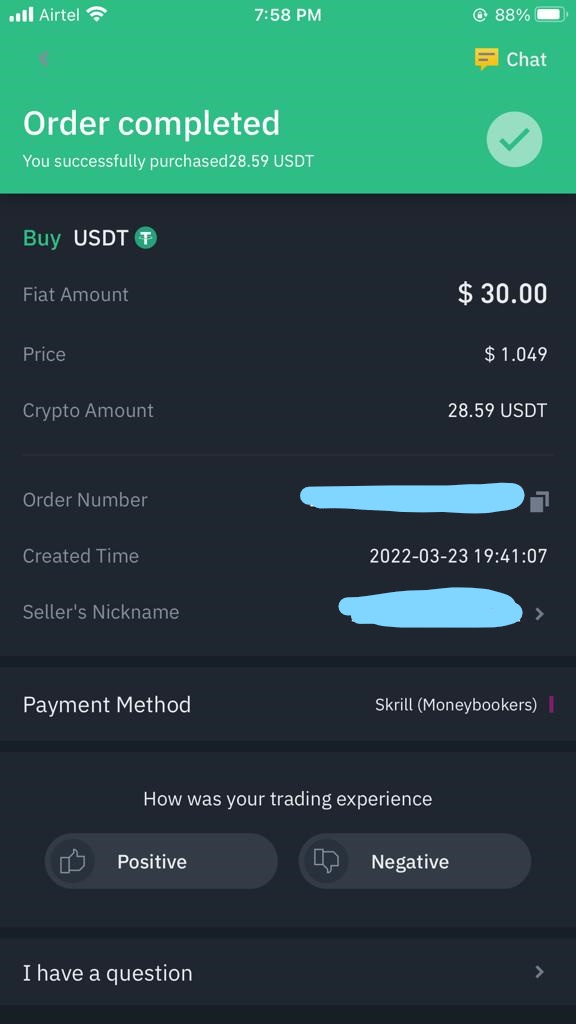 Step 12: I could sell the USDT via P2P at this point. Notice that the status was still "express," but the currency was now "NGN," activity was "sell," and the coin was "USDT." I wanted to sell 20USDT, and I hit "Sell with 0 Fee."
Step 13: I was paired with a buyer who wanted my USDT, and in less than 10 minutes, I received my money in my GTB account.
The entire process took about 36 minutes.
How much can I withdraw from Skrill through Binance?
You can withdraw as much as you have available in your Skrill account. However, note that a higher amount equals higher charges.
Can I withdraw funds from Skrill without a bank?
Yes, you can. You can decide to keep your USDT in your Binance wallet to trade or make payments directly.
Can I send Mastercard funds from Skrill to Binance?
This lesson I learned from a friend's experience. Request that your client or whoever you are receiving the Skrill funds from sends the payments only with a visa card (if that is possible).
Some sellers on Binance do not accept Master card funds, like mine.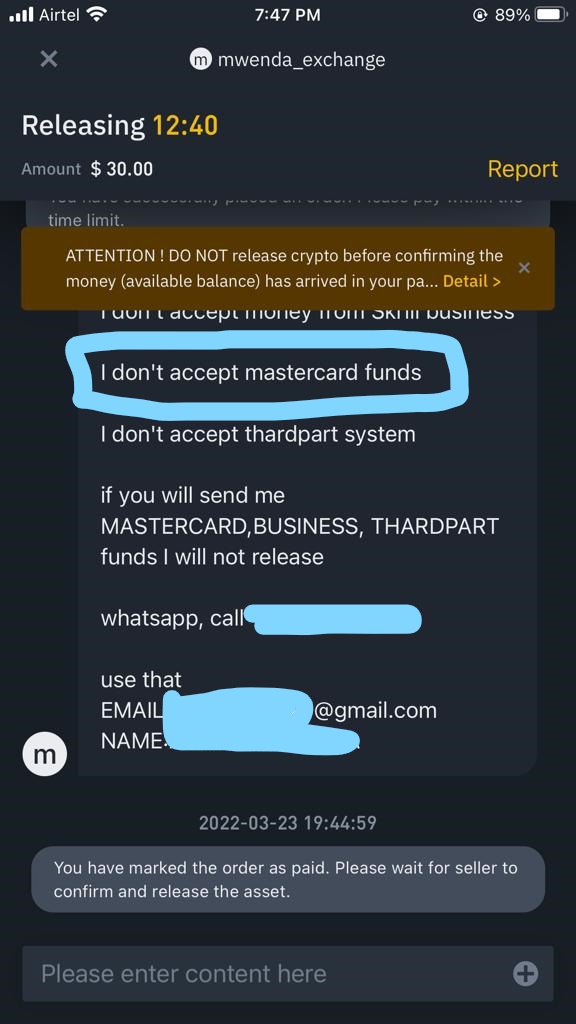 So you may have to cancel that order. And, you only get three canceled orders on Binance per day, after which you'd have to wait till the next day.
Bottom line
There will always be charges (for now) if you do foreign transactions. But receiving payment from Skrill through Binance straight to your naira account comes with very reasonable fees. Plus, it is fast enough.
Now, all our tech bros, women in tech, and online sellers can do business with clients all over the world and get paid seamlessly.
I have been using this payment process for about eight months now, and I have no regrets. You can get the Skrill app and do your Skrill to Binance transactions any day, anytime.
How To Receive Payments From Skrill Through Binance In Nigeria
Comments
comments