I have been checking out a lot of bio link tools (or link in bio tools) for over a year now and I shared some of the amazing ones I've found in
my previous post about linktree alternatives
. After trying out over 10 link in bio tools in almost 2 years, I am happy to confirm that I have settled on one best free link in bio tool. It is called Joy.Link.
In this post, I will be talking about Joy.link, why it is one of the best free bio link tools out there and also one of the best linktree alternatives I have used in a while. Let's get started.
Joy.link is a simpler, richer and highly customizable link in bio tool for Instagram, portfolios, payments, donations and more. The platform allows you to promote your social media profiles, products, projects, blog posts and any other media in one simple shorter link. It supports over 20 global social media platforms, instant messengers, and payment platforms. It is also completely free, and yes, you can use it to promote your Instagram.
I understand you might have used other link in bio tools or Instagram marketing software and probably didn't like them. I have too, and I can tell you for a fact that Joy.link is better because of it's many free features – It comes with analytics for free and unlimited link placements as well as themes. You can literally sell, promote or share anything with Joy.link and also customize your link in bio however you want without restrictions.
It also has some visual effects like "mouse over effect" and themes that suit your profile… all for free.
First, visit joy.link or just click here to sign up and choose a username for free. Then we can proceed to the fun part.
LINKS
After you login, you will arrive at the main links page where you can add links to your content, product, portfolio, blog post etc. Please see image below:
The "Embed videos" option allows you embed a link to your video on Youtube or anywhere on the web. When clicked, the video plays on your joy.link page, so visitors will not need to leave your joy.link page while watching the video.
The Links page is also where you can add unlimited links and also enable the referral link to earn some money. You can add a thumbnail to each of your link as well, but that is not compulsory.
PROFILE
The Profile page is basically where you can add links and add what you would like to show when visitors check your joy.link profile. For example, you can see what my profile looks like in the images below. The image with the blue background is what everyone sees when they visit joy.link.to/iammagnus1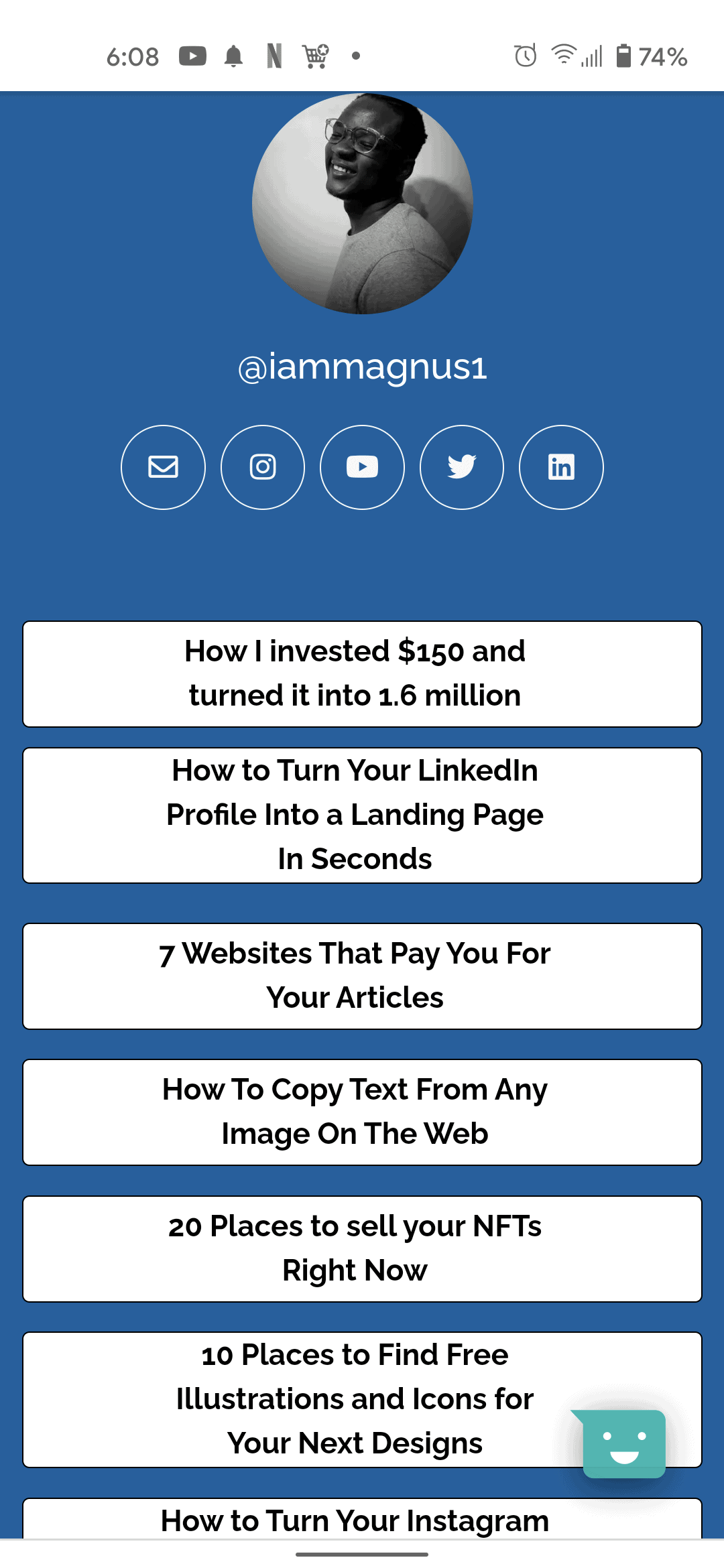 STYLING
The styling page is where all the customizations happen. You can change the theme, background, font and may other details about your joy.link link in bio here. The image below will further explain what I mean.
ANALYTICS
Joy.link's analytics page is actually my favourite part of the tool because most link in bio tools (especially the ones for Instagram) charge a few dollars to show your analytics while using the tool. Joy.link comes with free analytics to show you where your visitors are visiting from and what they are clicking on. You also get to see impressions and Average CTR as well. Here's an example in the image below:
The benefits of using Joy.Link
It's Completely Free: Joy.link is completely free to use. You don't have to pay a dime to make it your link in bio for Instagram or use it to promote Instagram free.
Highly Customizable: The tool is really detailed, up to the point that you can add your payment links, embed videos to play without leaving your joy.link profile and also add thumbnails of any link you add as well. Other additional features include box colour, font, mouse over effect and many more.
Free Analytics: One of the things that many bio link tools like Linktree don't offer for free or at all is analytics. With Joy.link, I can see impressions, clicks, what country my bio visitors are from and their average CTR.
All your Social Profiles in one place: Joy.link supports 20+ global social media platforms, instant messengers, and payment platforms.
Unlimited Links: Unlike so many Link in Bio tools out there today, joy.link allows you to add unlimited links to your profile. So, you can go ahead to add a link to all your blog posts there like I did or use it to list all your products. You can add as many links as you want, unlike Linktree and other similar link in bio tools.
Speed: The tool is very light and all its pages don't take time or consume your data bundle to load.
Additional Languages: Joy.link is not only available in English. It's available in over 3 languages.
Safe for everyone: Joy.link makes it easy to manage adult content as well. There is an option on the profile section for sensitive content. Visitors to your Joy.Link will see a sensitive content warning before being able to view your profile.
Earn Cash: Joy link has a referral program that you can participate in and earn cash when other users sign up through your URL. You can learn more about the referral program here
Joy link is the best free bio link tool I have used in a while and I'm surprised It's completely free. Enough stories, you should check it out and thank me later.
Click here to get started for free
.
Best Free Bio Link Tool in 2021: Step by Step Guide For Joy.link
Comments
comments